PADDLE OREGON 2019 doesn't mean to brag, but.....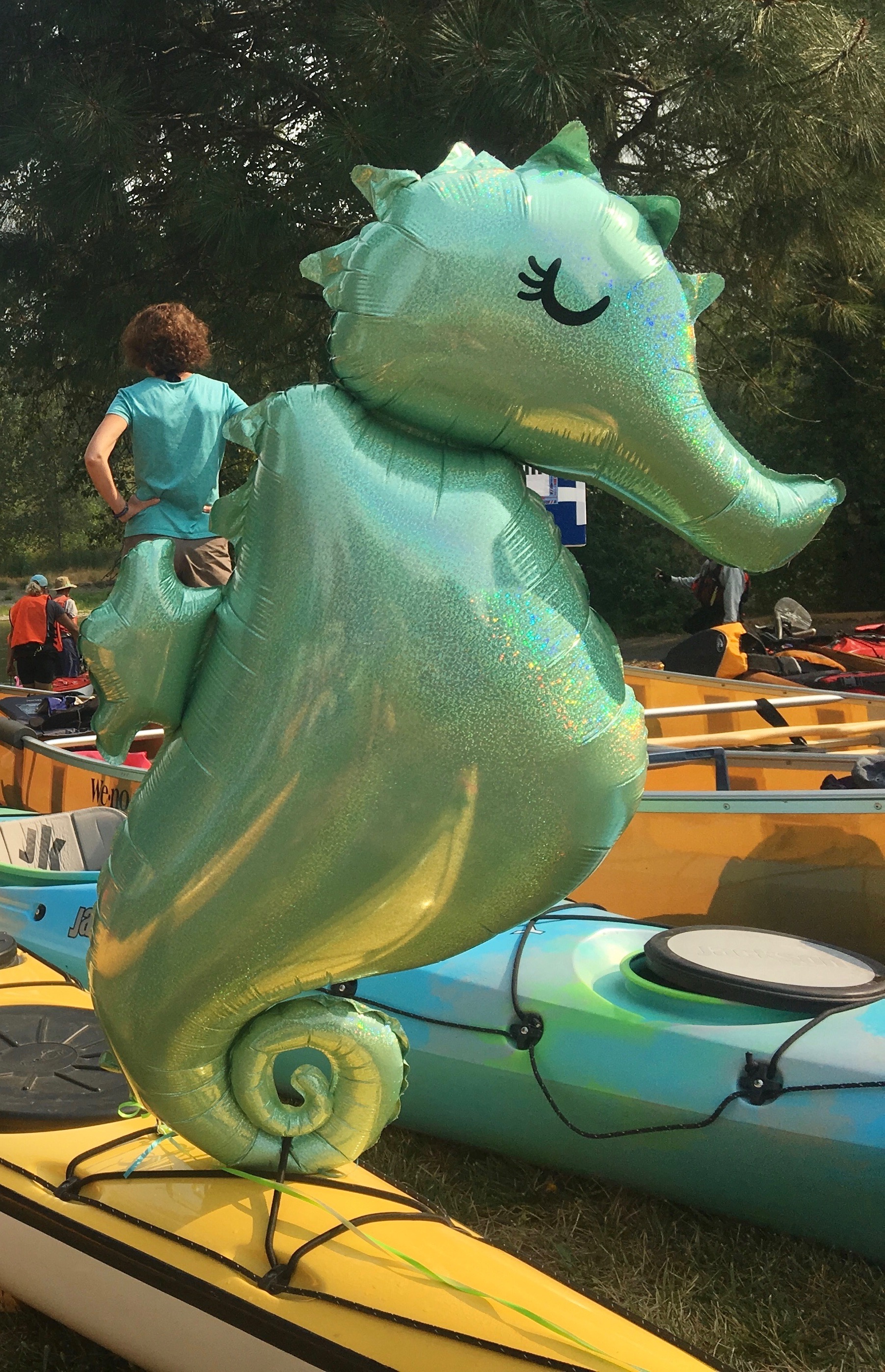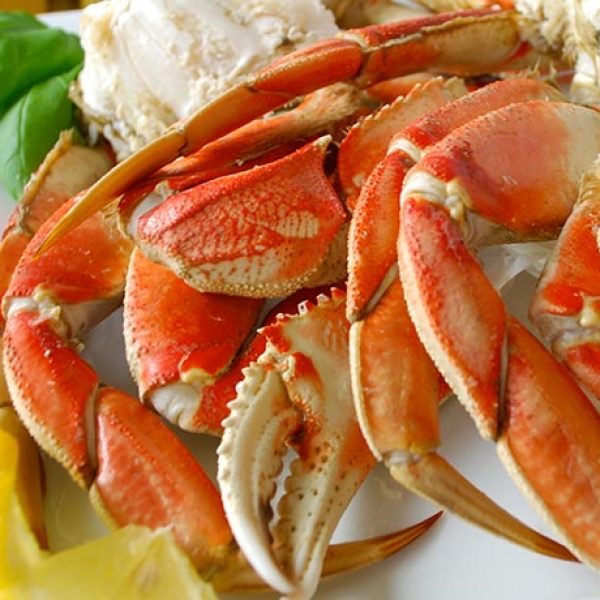 SPECTACULAR NORTHWEST CUISINE
PREPARE TO BE PAMPERED!
Rise and shine with a steaming cup of locally roasted Water Avenue Coffee,
followed by a hot breakfast, accompanied by seasonal berries
from local farms. Your sack lunch and snack selections include
more northwest brands, as will your evening appetizers and
dinner (served on real plates, with real cutlery and linen
napkins). From surf-n-turf offerings like wild salmon, Dungeness
crab, and prime rib, to vegan and gluten-free meals and breads,
there is something for everyone to enjoy!
Coffee? Yes, Please! Authentic to Portland and the Pacific Northwest, we are thrilled to welcome Water Avenue Coffee as a sponsor this year. We know that you will find their "Canoe Coffee" blend, as well as other varieties, to be the perfect compliment to cool morning sunrises alongside the river.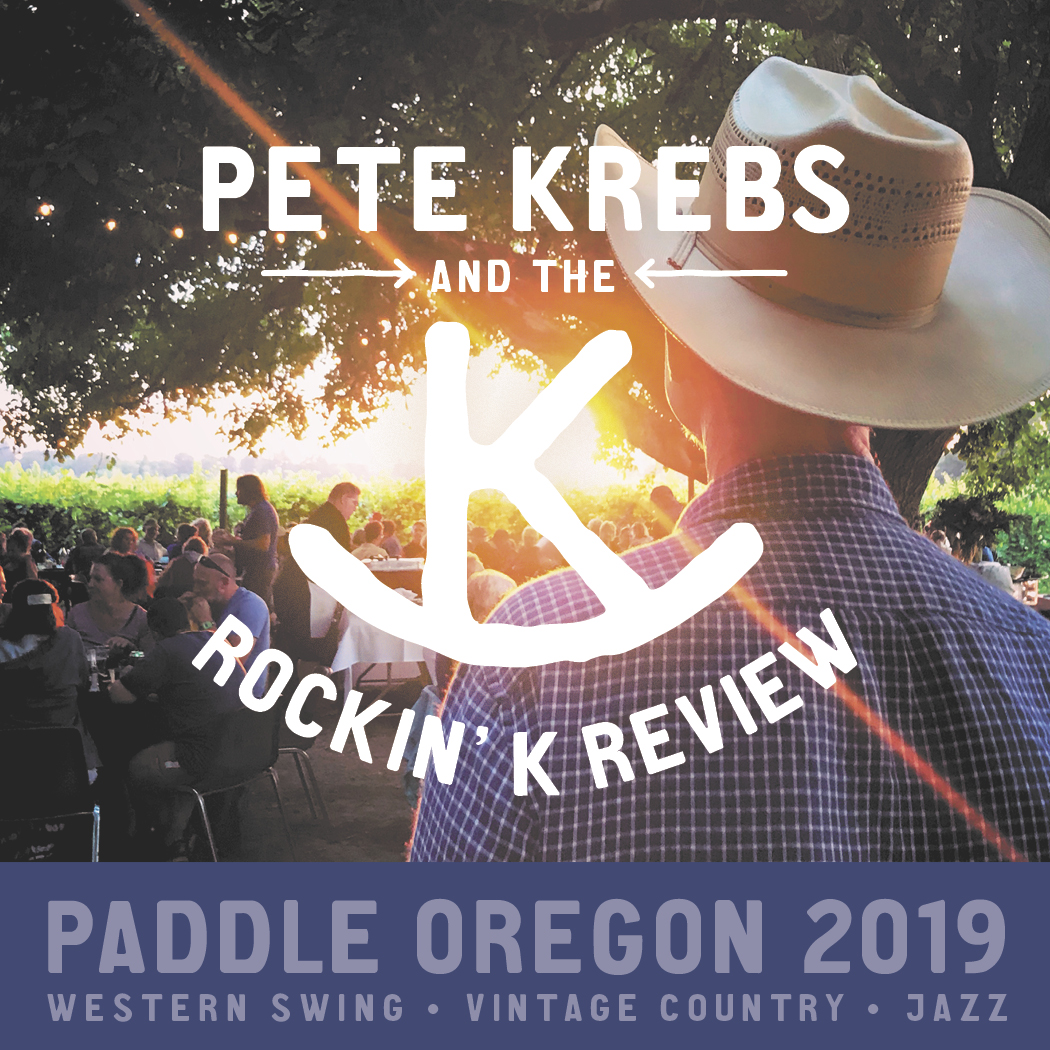 LIVE ENTERTAINMENT
THE SOUND OF MUSIC
We always have a great line up of talent on Paddle Oregon, from celebrated professional musicians to paddlers putting on impromptu river jam sessions, music will be infused into each evening.
We are especially thrilled to feature two-time inductee into the Oregon Music Hall of Fame, Pete Krebs, and his Rocking K Review for what's sure to be a rompin' stompin' honkey tonk dance party down by the hop fields at Rogue Farms.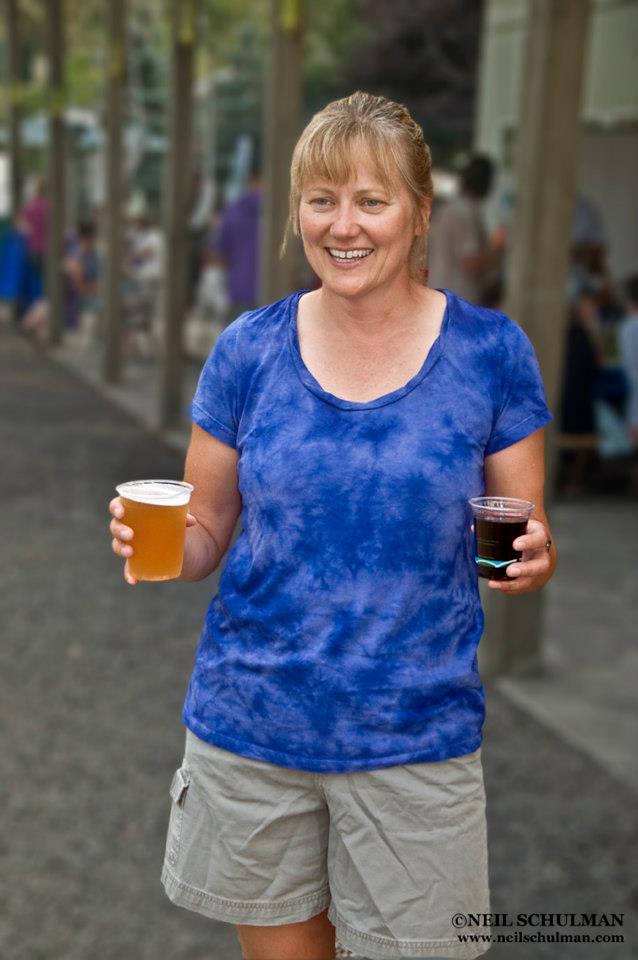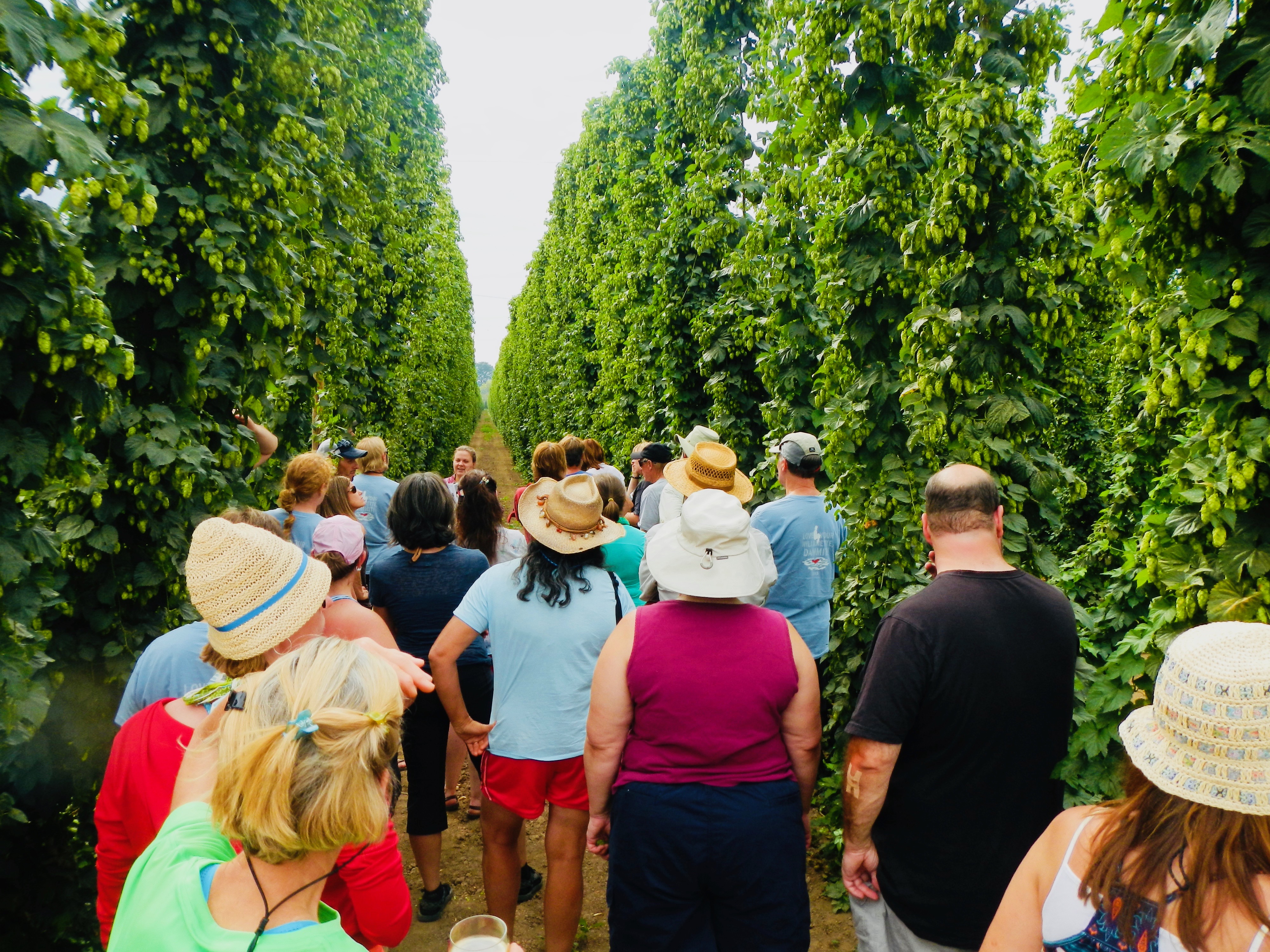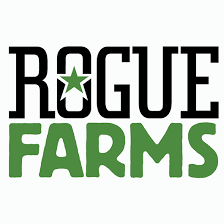 LOCAL BREWERY/WINERY
WORLD CLASS TERROIR... FOR YOUR CAMPSITE
If you find yourself thirsty in the Willamette Valley, you are in the right place.
Nestled between Oregon's Cascade Mountains and the Coast Range, the Willamette Valley's terrain is varied and huge. It's Oregon's leading wine region, and is home to over two-thirds of the state's wineries and vineyards. Recognized as one of the finest Pinot noir producing areas in the world, more than 80% of Oregon's Pinot noir is produced in the Willamette Valley. Other cool-climate varieties such as Pinot gris, Pinot blanc, Chardonnay, Riesling and Gewürztraminer are equally at home here. Wine Enthusiast Magazine, an esteemed, internationally-recognized wine publication, announced Oregon's Willamette Valley as its 2016 Wine Region of the Year for its annual Wine Star Awards.
In addition, the Willamette Valley's rich soil, mild climate, and abundant rainfall provide ideal conditions for high quality hop production. Hop farming has a rich history in the Valley. In 1932 Oregon led the world in hop production with more than 34,000 acres in production. Many Willamette Valley hop farms have been in production for three, four or even five generations. Oregon is currently the 2nd largest hop producing state in the United States with more than 6K acres in production. Oregon hops support a thriving craft brewing industry; of the 261 brewing facilities in the state, 150 of them fall within the Willamette Valley.
Each evening in camp you'll get to taste our local terroir with offerings from local brewers and wine makers. You'll also enjoy the immersive experience of camping amongst the historic hop fields at "Chatoe Rogue Farm." Rogue Brewing is one of the only U.S. breweries to operate its own farm, staying true to the company's DIY, ground-to-glass philosophy. The farms's 52 acres boast 10 varieties of hops that will be used in Rogue's Farm Beers. Located in Independence, once known as the "hop capital of the world," you can take a guided tour and see what it takes to pull off a harvest, or play yard games while you sip some uber-local suds (including their own root beer, hard cider, and spirits, in addition to local area wines).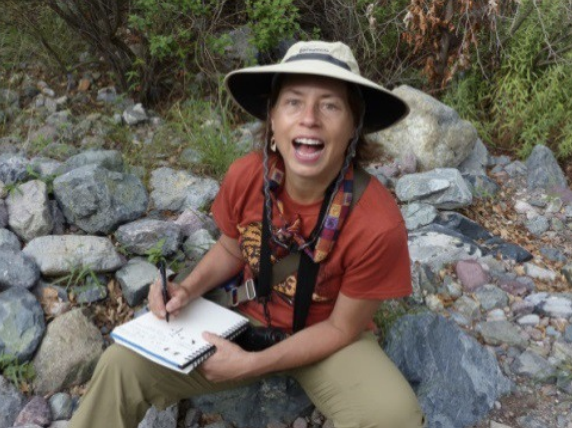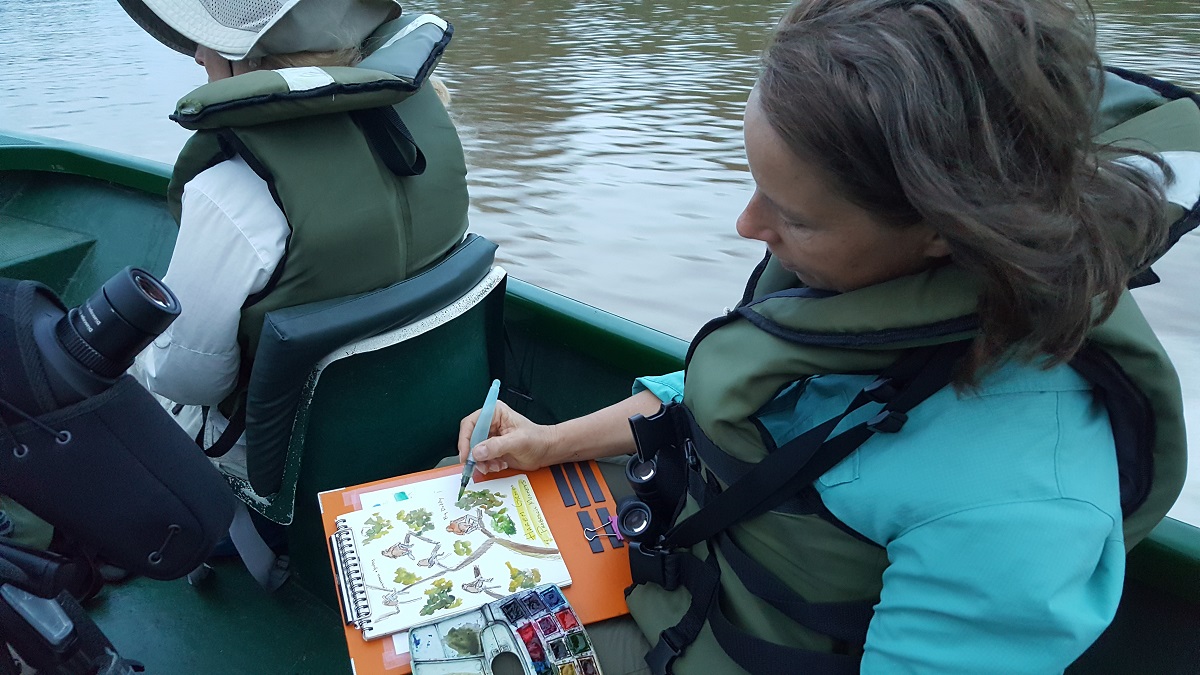 LEARN TO SKETCH NATURE
NO TALENT REQUIRED
Have you always wanted to keep a nature journal but didn't know how to start? Think you have no drawing talent? Well, after this trip you'll be sketching the natural world with ease and confidence thanks to our special guest…
Christine Elder, science educator and visual artist, helps people form more meaningful connections with the natural world. She believes that that expressing yourself through drawing and writing is a right, not a privilege reserved for the "artistically talented," and that the ultimate goal of sketching should not be making a "pretty picture," but should be focused on what you inevitably learn about that which you sketch as you are observing it.
Christine will be joining us for the week, and will offer opportunities to guide and inspire your burgeoning creativity both on the water, and in camp. Her aim is to bring more joy into one's life, more empathy into one's heart, and a greater appreciation for the vital roles that nature plays in our own well being. Be sure to pack a hardback spiral bound notebook with blank pages and a mechanical pencil.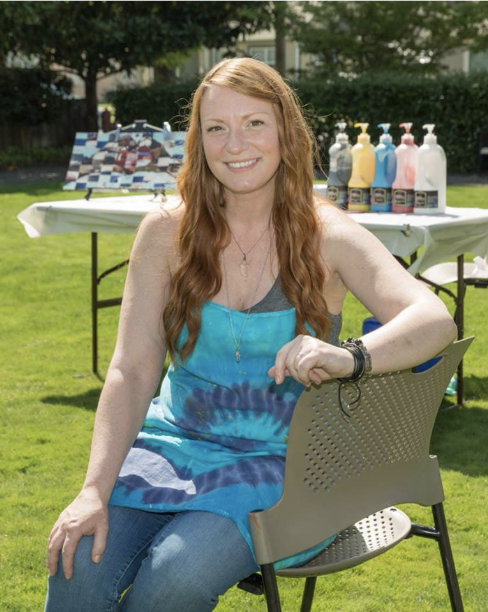 GUIDED PAINTING CLASS
RIVERSIDE INSPIRATION
Unleash your inner artist in a fun and social environment. NO EXPERIENCE NEEDED. On Wednesday, at our Albany campsite, join Dawning McGuinness, a talented painter and dedicated teacher, who will guide you through creating your own Paddle Oregon themed masterpiece. She will break down the painting step by step, including many breaks for appetizers and beverages, over the course of 1.5 hours. We provide everything, just sign up, show up, sip up and paint, and you'll take home your own 12" x 16" canvas to remind you of your adventure. Register for this course via your on-line registration for an additional $22, space is limited to 30 painters.
FRESHWATER FLICKS
EXPLORING THE HIDDEN WORLD BELOW YOUR BOAT
Look forward to a presentation by our talented friends at Freshwaters Illustrated, Jeremy Monroe and Dave Herasimtschuk. Dave's stunning photography recently earned him a 2018 Wildlife Photographer of the Year award from the Natural History Museum in London, and his work was recently featured in National Geographic. Through video and images, we'll explore rivers and the fascinating worlds that lie beneath our boats.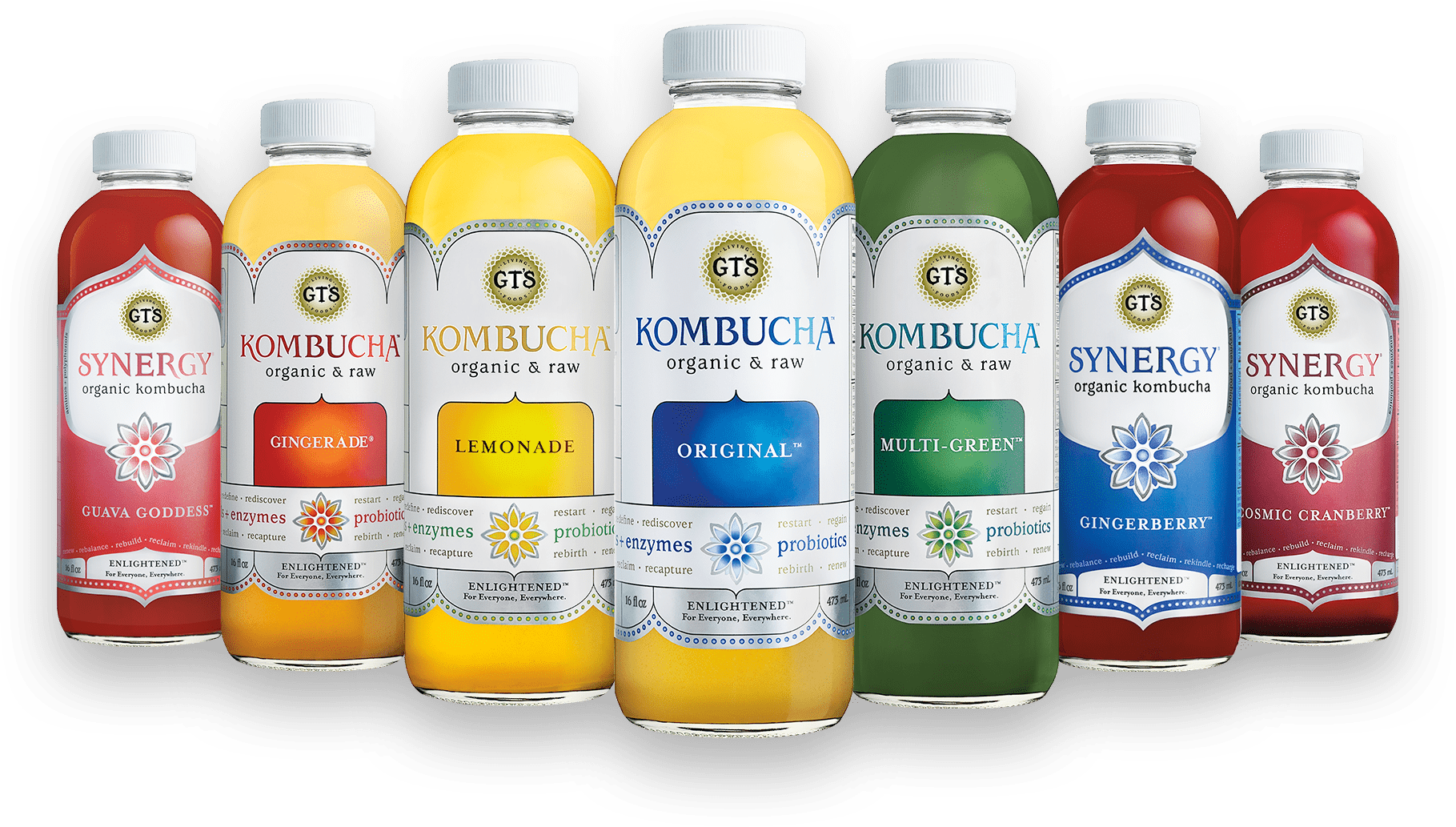 GET CULTURED
DEVELOP A HEALTHY HABBIT
Expect to see GT's Living Foods new, mobile Kombucha bar in camp!
Kombucha is a tea that has been cultured, and is naturally rich with Probiotics, Amino Acids, Polyphenols and Active Enzymes. A family owned & operated company, GT's Kombucha, has stayed true to the authentic brewing process of this sacred elixir for over 20 years. Their #1 selling Kombucha is raw, organic, naturally effervescent, and handcrafted in small batches.
.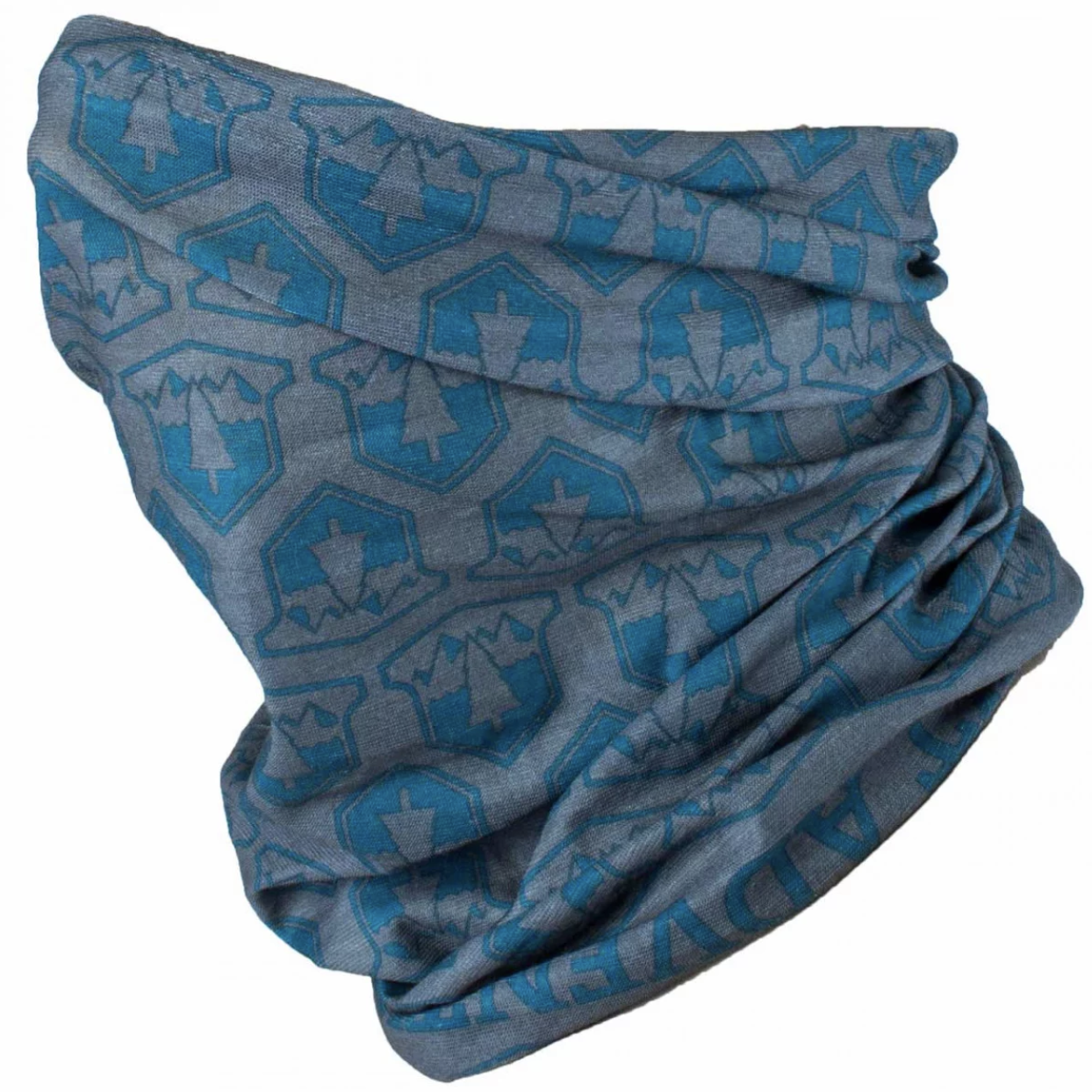 LATER GAITER
KEEPING YOU COOL
Thanks to our friends at Next Adventure who will be gifting each of you with a multi-purpose adventure wrap which can be used as a neck gaiter, balaclava face cover, beanie, headband, helmet liner, and much more. Made from comfortable polyester fabric, this wrap can limit sun exposure and help you keep your cool on the river.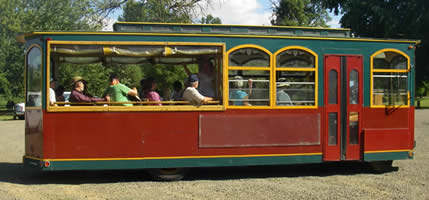 HISTORIC ALBANY TROLLEY TOUR
GET TO KNOW YOUR NEIGHBORS
Thanks to the Albany Visitors Association, Paddle Oregon participants will enjoy a truly unique trolley and walking tour when we pull off the river in Albany's Bryant Park. Each museum offers perspective and history of the Willamette and the quiet communities it sustains.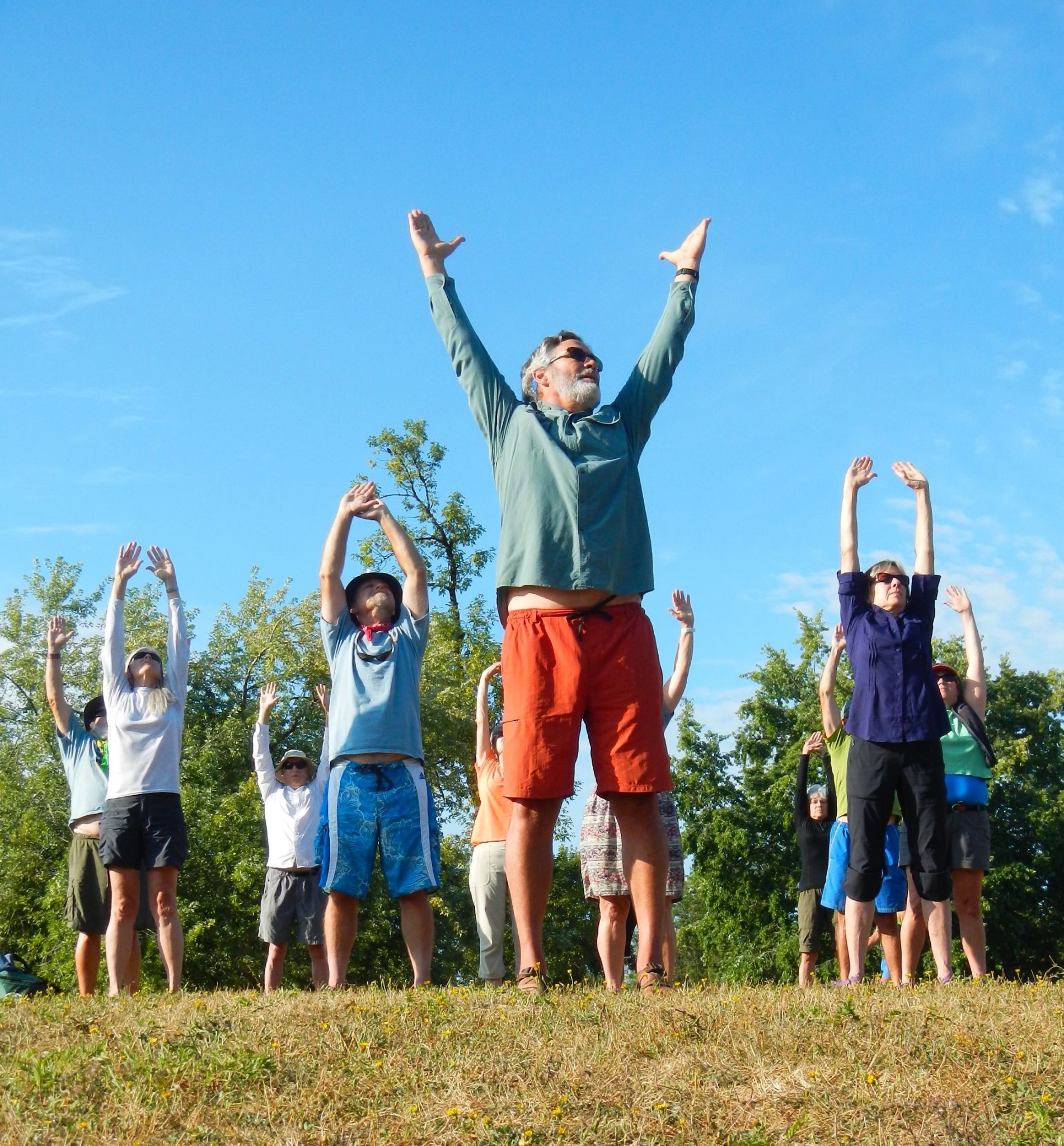 MASSAGE + YOGA
WELLNESS OFF THE WATER
Enjoy twice daily yoga practice lead by Willamette Riverkeeper's own Heather King. Pack your favorite yoga mat or a towel, no expereince is necessary.
After a long day on the river, nothing feels better than a massage. Corvallis based Licensed Massage Therapist Jill Lee, and others will be available each evening to soothe those aching muscles! There is an additional charge for massage, generally $20 for 15 minutes.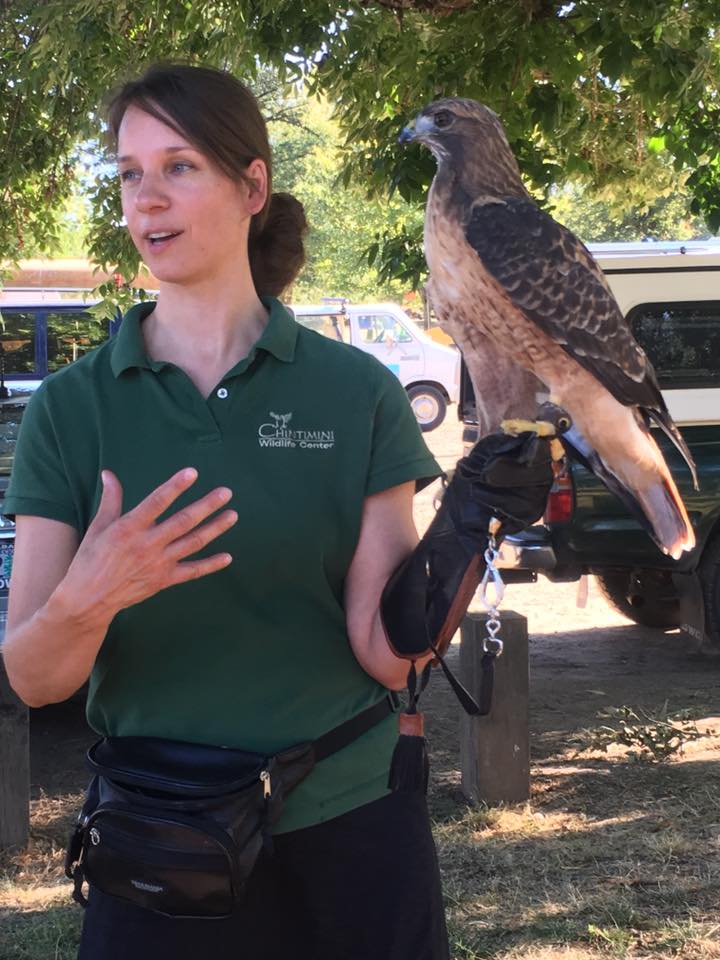 ECO-CLINICS
EDUCATION IN THE ELEMENTS
Not only will you enjoy paddling the river, you will also have daily opportunities to learn about Willamette Riverkeeper's important work advocating for clean water and healthy habitat! Will will offer Eco Clinics both along the riverside and in camp. We invite experts to share their knowledge with you, like Frank Isaacs,  co-founder of the Oregon Eagles Foundation, who has studied Bald Eagles of the Willamette for nearly 40 years, and Travis Williams, Riverkeeper, Executive Director, and author of the Willamette River Field Guide. Other clinics in 2019 will include Chintimini Wildlife Center presenting LIVE raptors , as well as talks about river geology (get to know your rocks!), Freshwater Mussels and aquatic plants, just to name a few.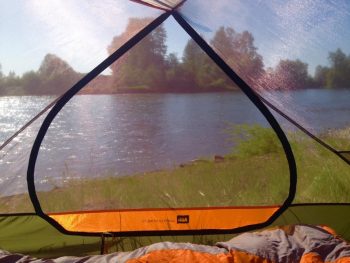 EXCLUSIVE CAMPING AREAS
CAMP IN COMFORT
This year our riverside campsites feature a well rounded Willamette Valley expereince including two grassy, quiet, city parks, a scenic privately owned riverbend, and an award winning brewery and hop farm. Restrooms and hand washing sinks will be provided at every camp, in addtion to a shower trailer mid-week. Keep in mind that you will not necessarily have access to electricity to charge  personal electronics for daily use.