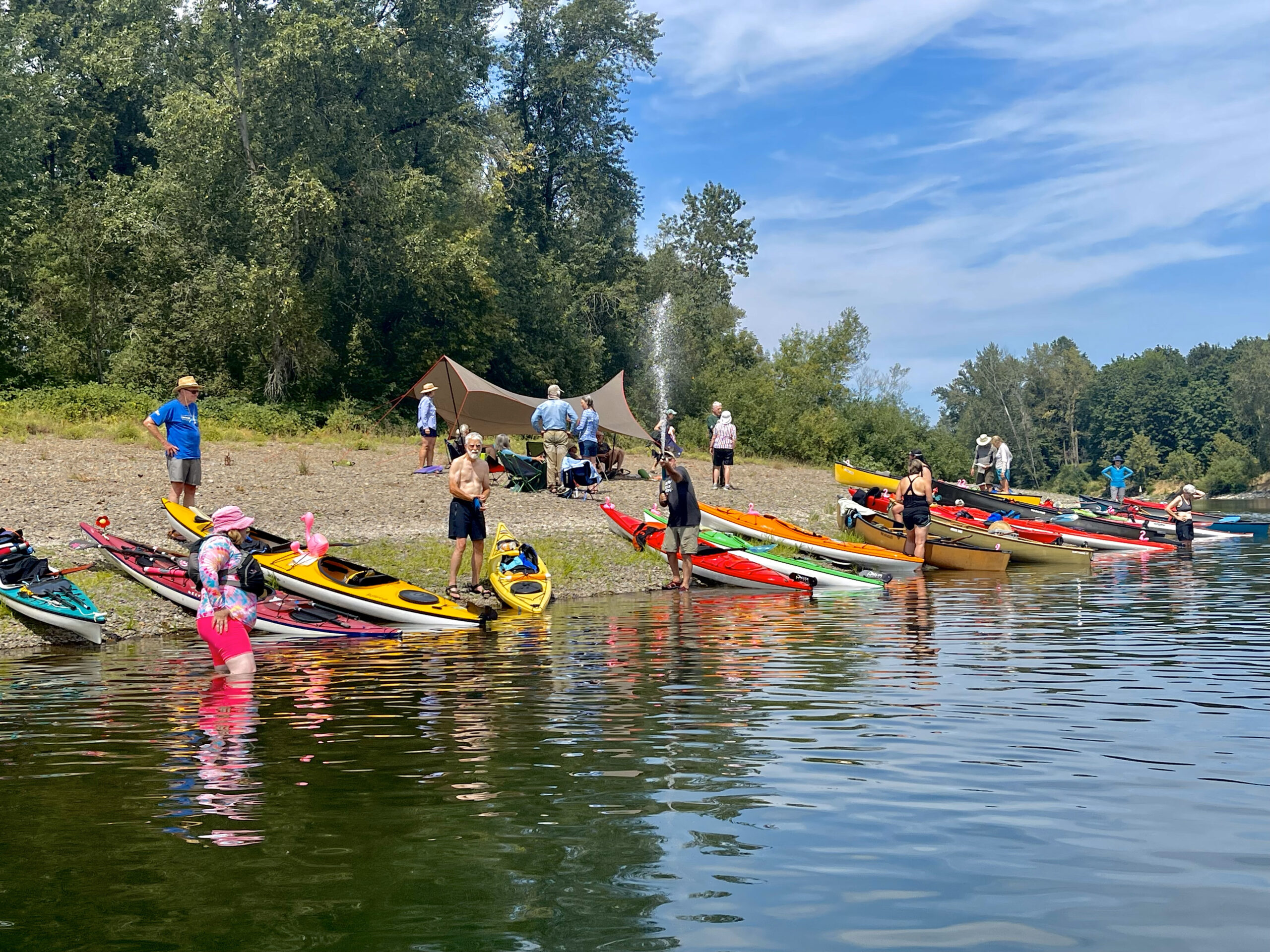 Join us for four sun-ripened days dreaming your way down the magnificent Willamette River. It's here that you'll experience the river in a markedly different way, with spectacular meals, entertainment, lots of laughs and more memories than a mere four days really deserve to make.
ITINERARY
August 17 - 20, 2023
This year's trip will wind along 60+ miles of river, beginning at Peoria Park and ending at Keizer Rapids Park. Please see www.willamettewatertrail.org for more information about the segments of river we will be paddling.
Thursday, August 17: 9 miles
Put-in at Peoria Park and camping at Crystal Lake Park in Corvallis
Continental brunch and dinner provided
Educational Riverside Talk
Painting Workshop
Friday, August 18: 12 miles
Leaving Crystal Lake in Corvallis and camping at small riverside farm and floodplain property in Albany
Breakfast, boxed lunch, and dinner provided
Educational Riverside Talk
Musical entertainment
Saturday, August 19: 21 miles
Leaving Albany and camping at Wigrich Farm in Independence
Breakfast, boxed lunch, and dinner provided
Restoration River Discovery Stop & Walk
Musical entertainment
Sunday, August 20: 20 miles
Leaving Wigrich Farms and taking out at Keizer Rapids Park
Breakfast and boxed lunch provided
*NOTE: Each pod will arrive at the take-out at their own pace, generally sometime between 3pm and 4pm. Camping gear will be shuttled by land crews to the next destination. Itinerary times and river segments may change based on unexpected circumstances, river conditions, or other considerations.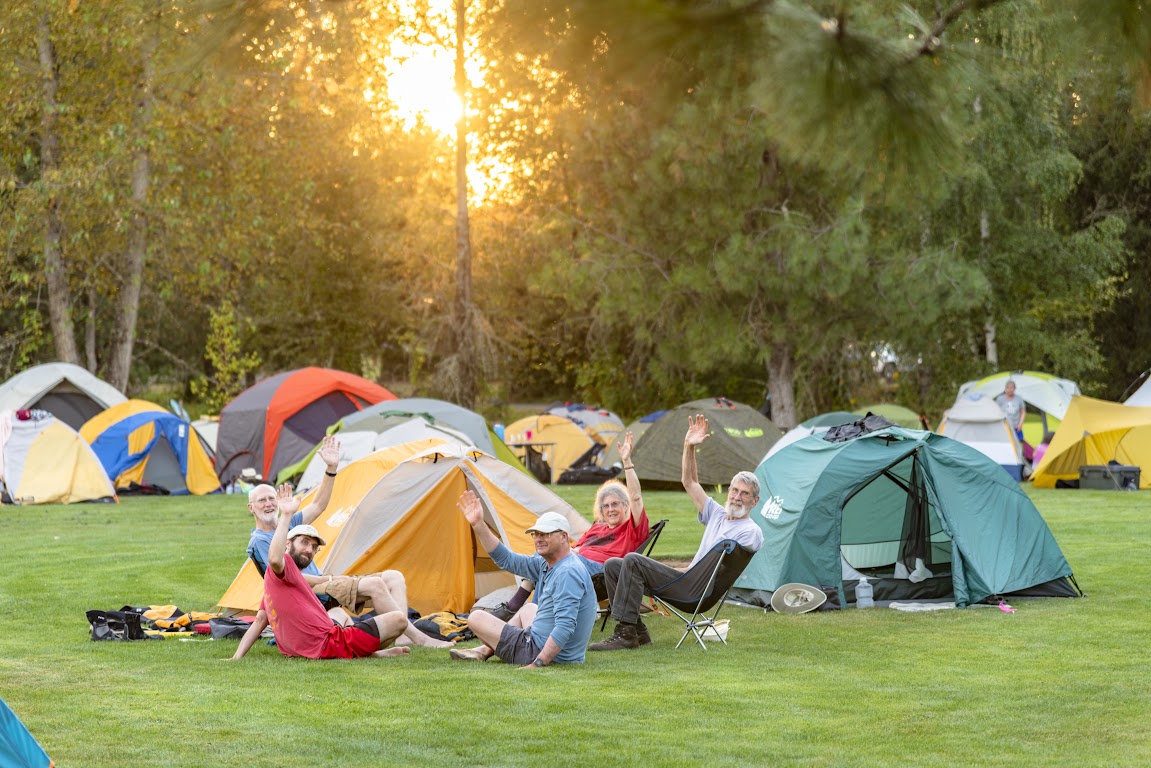 Paddle Oregon arranges all camping and amenities for participants.
Our campsites will vary in ground surface, some offer a grassy city park and others could be on gravel bars overlooking the river or on a farmer's field. Sleeping pads are highly recommended. Amenities at each campground include port-a-potties and hand-washing station, communal tables and chairs, and perhaps the occasional sheep.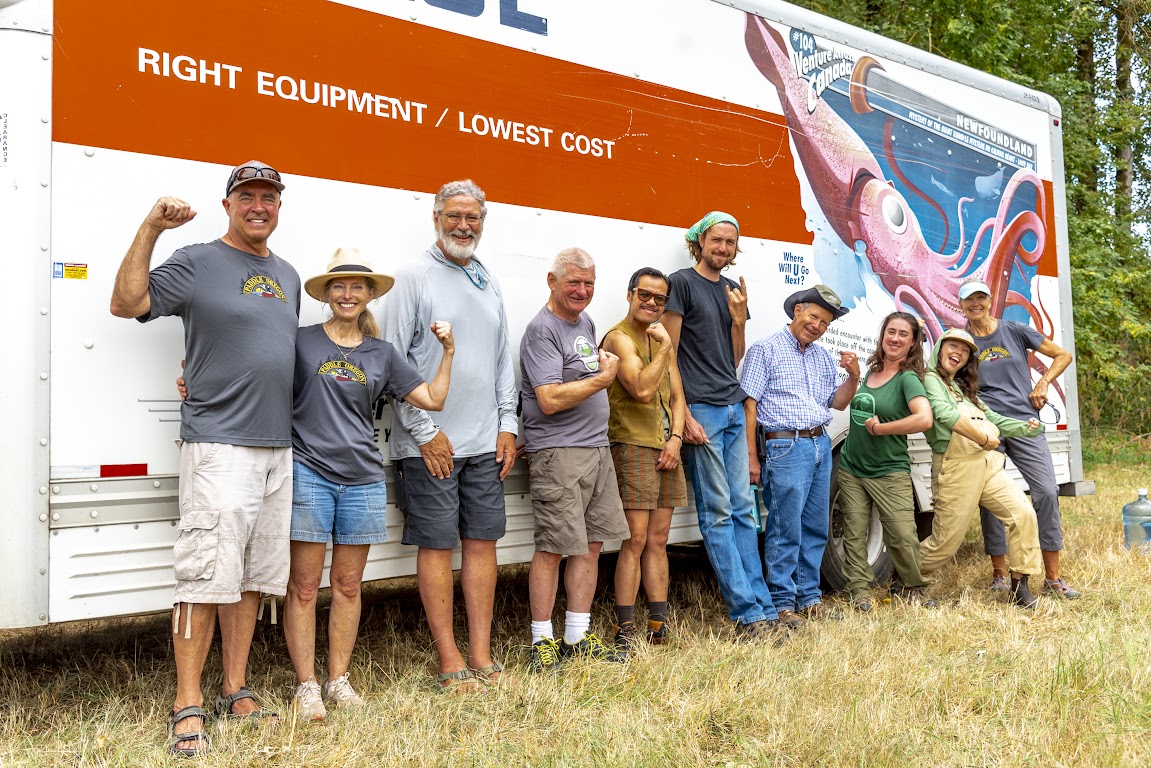 Thanks to a dedicated team of volunteers, your camping baggage will be loaded onto a truck when you arrive, then shuttled and unloaded from campsite to campsite each day. Shuttled baggage needs to be well labeled, and no more than two reasonably sized duffel bags, each weighing 40 pounds or less. You should pack a separate waterproof bag to take with you on the river to hold extra clothes, jackets, sunscreen, etc. For ideas on what to pack see here.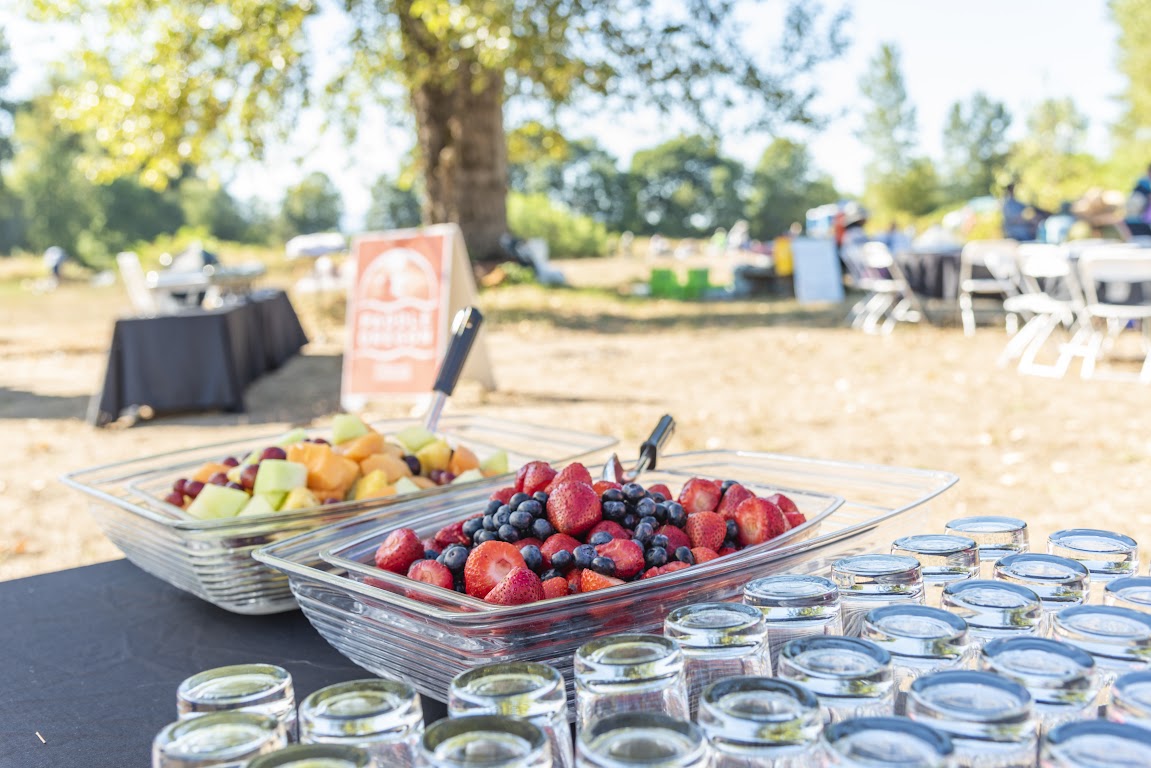 On Paddle Oregon, the food is as spectacular as the river views. A catered breakfast, lunch, evening appetizers and dinner will be provided for you, starting with coffee and a continental breakfast at the put-in Thursday and ending with lunch on Sunday. We will highlight cuisine from a variety of Willamette Valley based small businesses – each meal will feature a menu from a local caterer to nourish your tired body and feed your soul!
Participants will have grab and go sandwiches and other snack items to choose from each day after breakfast. Breakfast and dinner are served buffet-style, with a variety of delicious items to choose from. Our event caterers are happy to work with you if you have food allergies or other restrictions/preferences as long as you indicate those preferences when you register.
A non-alcoholic, beer, cider or wine option will be available each evening. There is an additional charge for alcoholic beverages.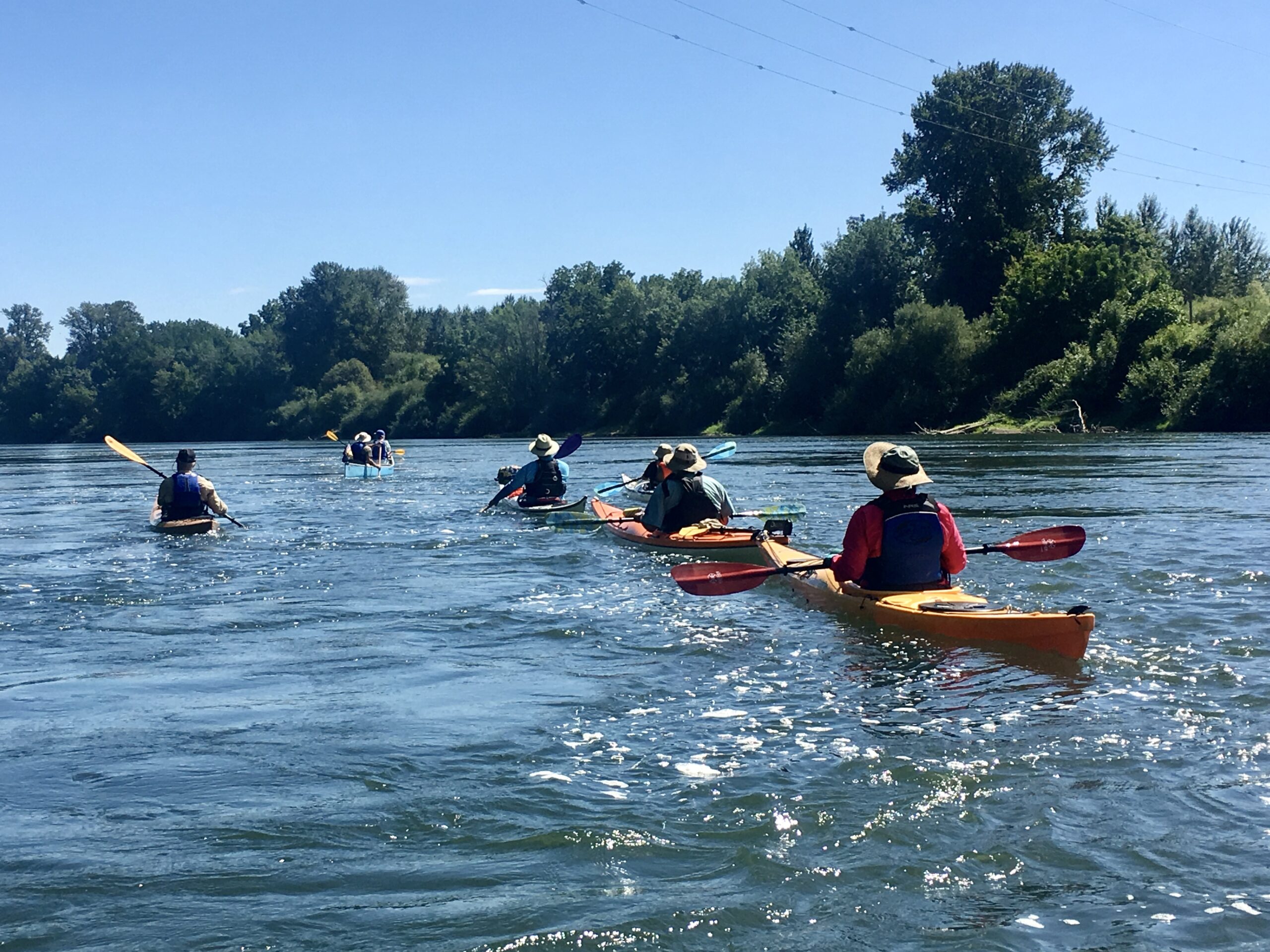 SKILL AND BOAT REQUIREMENTS
You will be paddling with two pod leaders who will help facilitate the safety of your group. In addition, we have roving safety paddlers to assist pod leaders and participants as needed. Nevertheless, you are responsible for your own safety at all times!
Although the Willamette River is primarily calm this time of year due to lower water levels, sections of the river have considerable current that require paddlers to have the skill to maneuver their boats in moving water and dynamic currents. These skills include familiarity and experience with basic strokes and maneuvers such as forward and reverse paddling, turning in current, navigating river bends, paddling upstream, and ferrying. Paddlers also need to have an understanding of river features such as reading the flow (current, shallow areas), eddy lines (how they work, how to move across them safely), and recognizing hazards like obstructions or strainers (such as woody debris). At times the river is braided, or is split by an island. You and your pod may need to "eddy out" from the main current, or paddle to the side, to get out and scout which channel option is most appropriate.
In addition to basic skills, we recommend practicing rescue techniques prior to the trip, and encourage that participants have recent experience paddling 10 to 20 miles per day to assure stamina is adequate to enjoy your vacation! Your pod will take regular breaks as needed. The upper river has slightly more gradient, resulting in a decent current that will assist us as we paddle down river (although there is always the possibility of a headwind).
Interested in brushing up on your safety and paddling skills? Sign up for a class through Alder Creek Kayak and Canoe. Let them know you are going on Paddle Oregon and use code WRK2023 to save 20% on the class fee.
All participants need to meet two of the following requirements:
Paddling experience on moving water (strong river currents, eddies, etc.) within the last two years.
Moving water paddling instruction within the last four years.
Previous participation in Paddle Oregon.
Additional Requirements for Participants 17 and Under:
All minors need to have had wet exit and rescue training/experience or will be required to paddle with an adult.
All minors need to know how to swim.
Most participants paddle touring-style sea kayaks, canoes (solo or tandem) and SUP's that are 14 – 19 feet in length. Longer boats have more glide and cover distance more efficiently, but also do not turn as quickly. That being said, we recommend that your paddling craft be at least 12 feet long to make it easier for you to paddle the long distances that some days require. You will be paddling with an assigned pod, and it's helpful when everyone has an appropriate boat. Our goal is to set you up for success on your vacation – we don't want you working too hard just to keep up! This year you will have two days of lower mileage to allow opportunities to play on the river and build your skills so you are ready and excited about two days of paddling longer distances.
We also recommend that you train and condition yourself as needed in advance of the trip, you will thank yourself for it come August!
If you have questions about these requirements email Annette Pearson. We will be happy to talk to you about whether your experience is adequate or if a class is appropriate.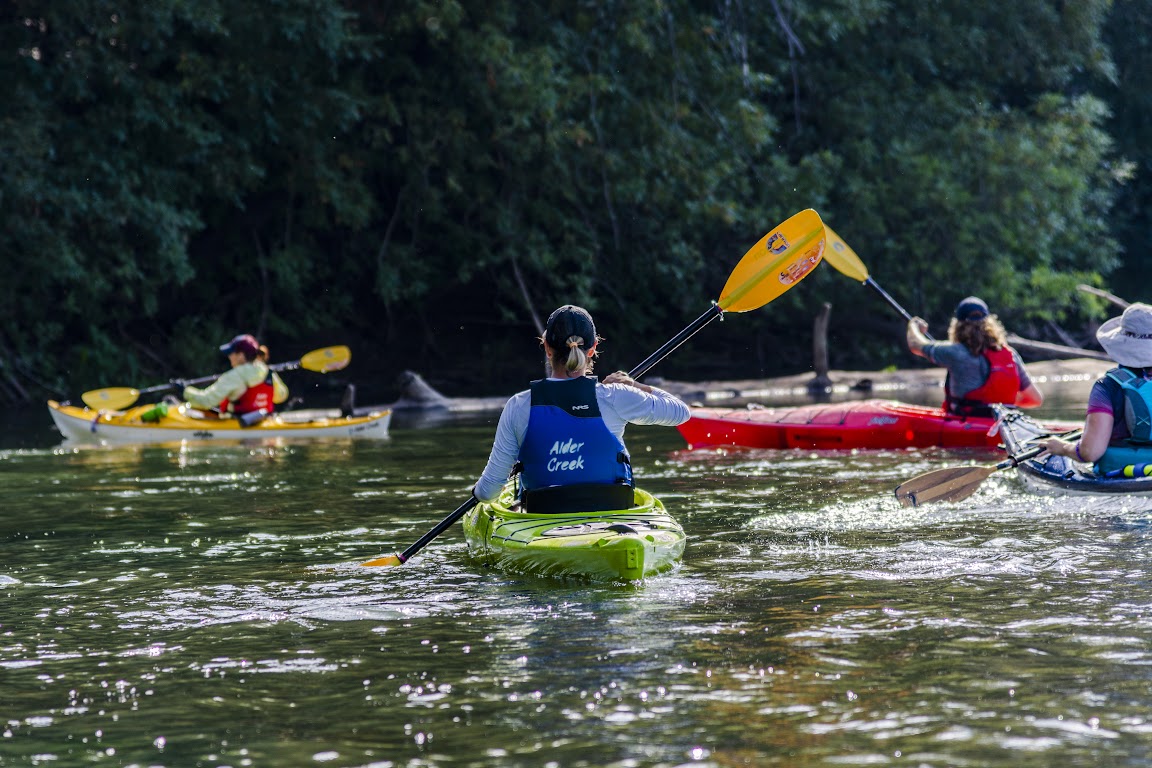 Need a boat? Canoes and kayaks can be rented for an additional fee through various local paddling shops. You are responsible for making these arrangements on your own.
When renting a boat, we strongly suggest that you test paddle your rental boat prior to committing to paddling it for four days. We also recommend that you invest the time in training yourself in proper paddling technique by taking classes from professionals, and that you condition yourself for full days of physical activity. If a renter claims "my boat is slow " what we hear is "I have not properly prepared for this trip," and unfortunately that can affect your river experience as well as the experience of your assigned pod.
Alder Creek Kayak & Canoe offers a special rental package and service for Paddle Oregon participants: $200 for a solo boat or $250 for a tandem kayak. Price includes life jackets, paddles, and transportation of the boat. An Alder Creek representative will deliver your boat to the put-in, help orient you to your gear, and will pick up your rental gear at the take-out. Give them a call at: 503-285-0464.
Interested in a canoe? Tandem canoes are available to rent from Willamette Riverkeeper for $200. A rental comes with paddles, life jackets and transportation of the boat. Canoes from Willamette Riverkeeper can be rented directly through your registration form. Quantity is limited!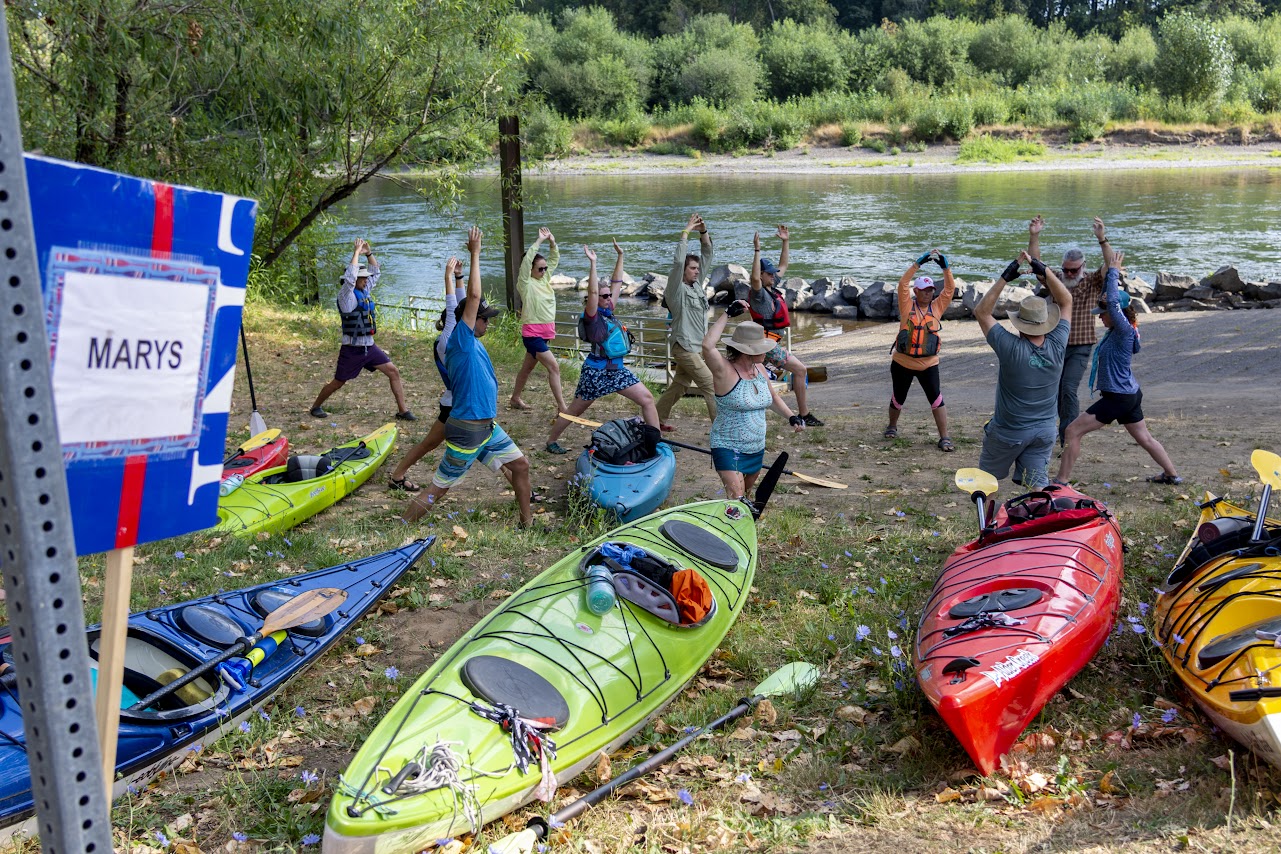 In order to ensure safety and foster camaraderie on the river, paddlers will be grouped into "pods." We will try to assign paddlers to pods based on boat type and size or on your paddling pace and special interests. The information you provide when you register helps us to place you in a group. We want you to be happy in your Pod and can usually accommodate Pod changes if requested.  Each pod will have ten to twelve boats and a minimum of two Pod Leader volunteers.
Pod Leader volunteers are experienced paddlers, and not necessarily professionally trained guides/rescue technicians. While they will be present to help make decisions on the water, keep the pod together, and assist with rescues when necessary, ultimately, your safety is your responsibility.
Meeting the necessary skill requirements, listening to directions, and being aware of what's ahead downstream are essential to having a safe trip.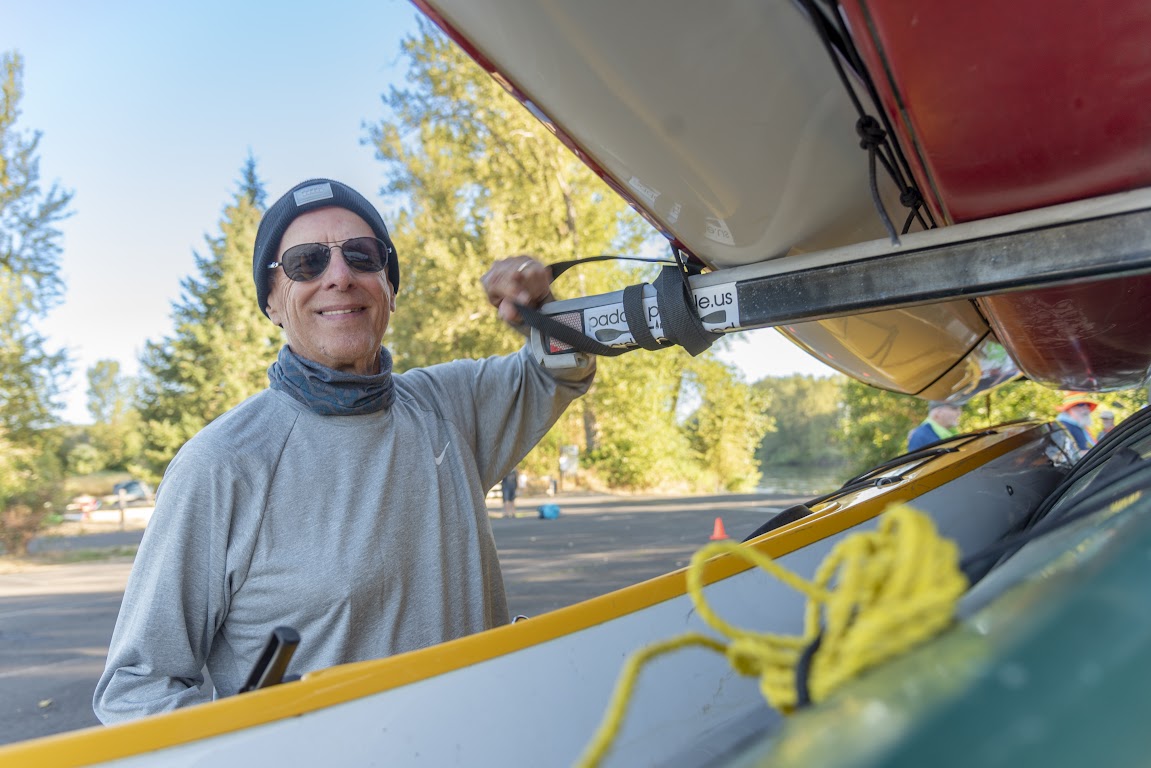 TRANSPORTATION, SHUTTLE AND PARKING OPTIONS
Here are your transportation options:
1) If you are arranging for your own transportation to be dropped off at the put-in at Peoria Park, on Thursday morning by 9:45 am, and picked up at Keizer Rapids Park on Friday afternoon between approximately 3:30pm and 4:30pm*. 
There is no overnight parking allowed at the put-in!
*NOTE: Each pod will arrive at the take-out at their own pace.
2) For an additional $35, you can join Willamette Riverkeeper's one-way-shuttle to transport you, your gear, and your boat from the take out at Keizer Rapids Park, to the put-in at Peoria Park. This service includes the option of parking your car at Keizer Rapids Park for the duration of the trip. The shuttle service will depart from Keizer Rapids Park at 9:00 am sharp.
How our shuttle works:
If you choose to use our shuttle service by paying $35/person and…
You need us to transport you, your gear and your boat (this is the case for most people traveling south to the event): Meet Willamette Riverkeeper with your boat and gear near the boat ramp at Keizer Rapids Park at 8am on Thursday morning. We will help you load your boat onto a trailer and you will load all of your gear into the gear storage area on the shuttle buses. After you park your car in the designated area, find a seat on the bus and get ready to enjoy the ride.
You do not need us to transport your boat because you're renting a boat from Alder Creek or you're dropping your boat and gear off at Peoria Park on your way to Keizer Rapids Park (this option can work for many people traveling north to the event), but you want your car waiting for you at the end of the trip: After dropping off your boat and gear continue south to meet Willamette Riverkeeper at Keizer Rapids Park on Thursday morning by 8:30am to load yourself and your camping gear onto our shuttle buses.
Parking for shuttle users…
Willamette Riverkeeper cannot guarantee the security of your vehicle for the week. You will be parked in a busy public space. Do not leave any valuables in your car. Please note, there is no overnight parking available at the put-in, and no shuttle back to the put-in at the end of the trip.
You will select your Shuttle preferences in your on-line registration form.
A simple continental breakfast, coffee and a packable lunch will be waiting for you at the put-in at Peoria Park, which is about a 55 minute drive away!
Registration is $799 per adult guest and $649 for minors.
Registration includes: 4 days paddling on a National Scenic Water Trail and 3 nights camping, catered meals throughout the event, daily baggage shuttle, nightly entertainment, education opportunities, a 20th Annual Paddle Oregon t-shirt, safety paddlers, ACA event insurance coverage and logistical support.
When you fill out the on-line registration form, you may pay your registration fee securely online or opt to mail in a check. To save on credit card fees, Willamette Riverkeeper prefers check payments.
 Additional Options:
Shuttle: $35/per person (includes parking option)
Massage: $20 for 15 minutes (available nightly, cash preferred)
Beer, Cider and Wine: Available nightly for an additional charge (cash or card)
Painting Workshop: $25 includes all materials and instruction. One night only, limited availability
Willamette Riverkeeper canoe rental $200 (limited availability)
50% refunds can be issued up to July 15, 2023. No refunds after this time unless the event needs to be rescheduled due to hazardous conditions, in which case, we will provide a 50% refund for those who cannot attend the rescheduled date. No transfers.