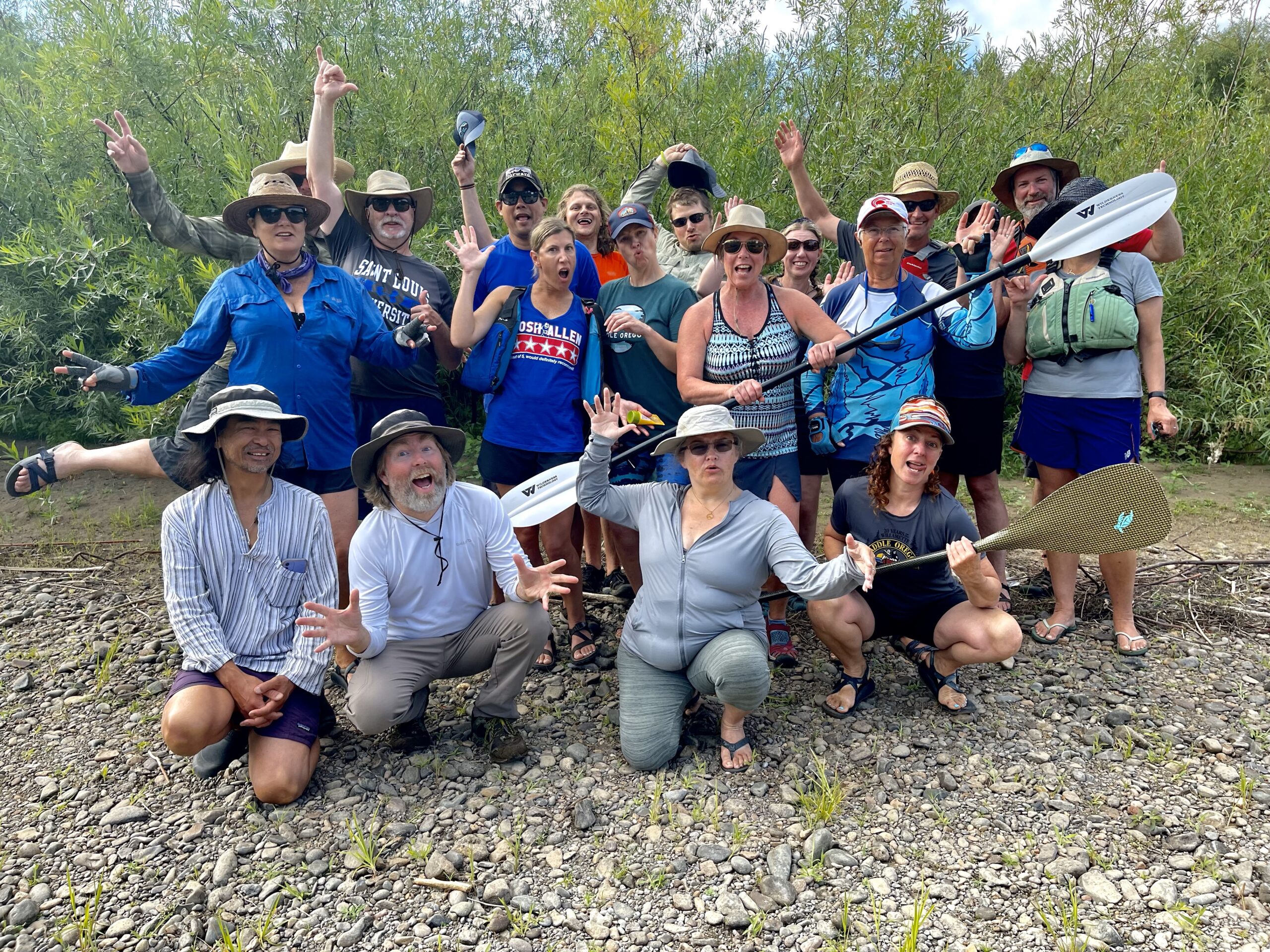 For safety on the water, participants are assigned to Pods, or groups of approximately 10–12 paddlers, who are accompanied by two Pod Leaders. A pod leader's responsibility is to facilitate safety and provide guidance on the river.
Required skills include; demonstrated proficiency in paddling (class I – II river skills preferred), conducting rescues in moving water, and river reading skills. You must also have the ability to give clear direction (be a good communicator- and say it with a smile!) and take a leadership role within the group. First aid and CPR certification are required! Specific Willamette River and on-the-water group management experience is a plus, as are ACA certifications, BCU awards, and professional guiding experience. Discounted meals and trip fees are offered in exchange for volunteering.
Pod Leader applicants are required to participate in our overnight training trip weekend scheduled for April 29 – April 30, 2023 on the upper Willamette! Among other things, we will be practicing rescues so be prepared for full immersion (we suggest a dry suit or wet suit).
If you believe you have the paddling and leadership skills, experience, and patience required to be a volunteer Pod Leader, please email Annette and list or explain your qualifications and experience for this role. We will be holding a WR Volunteer Safety Training Weekend April 29-30, 2023 – please see our events calendar to register here.
Pod Leaders will be notified of their designated role by July 1, 2023. Decisions are made based on demonstrated skills and the number of Paddle Oregon participants that have registered (which determines how many pods we will need). Once you have been assigned a volunteer role, you will then be directed as to how to formally register online.
For more information about Paddle Oregon Pod Leader volunteer positions, contact Annette or at 503-223-6418.
The secret to a successful paddling event is not necessarily on the water. Logistical support volunteers help with baggage shuttles, campsite set-up, caterer and amenity crews, and other logistical aspects. These volunteers get a behind-the-scenes look at how Paddle Oregon is organized and carried out.
Required skills include; a sense of humor, ability to drive a vehicle with a boat trailer attached, strength to load and unload luggage, and willingness to assist participants. Land lubber volunteers receive free meals, camping accommodations, evening entertainment, excellent company and heaps of praise!
For more information about Paddle Oregon Logistics Team volunteer positions, email Michelle or contact her at 541-913-4318.